The fallen snow that is gently draped over the landscape creates an insulating effect. Silence surrounds you. There isn't even a whisper of wind. For those who prefer quiet wilderness adventures, skiing to Cascade and Stephens ponds, located in the Blue Ridge Wilderness, is the perfect choice for an outing.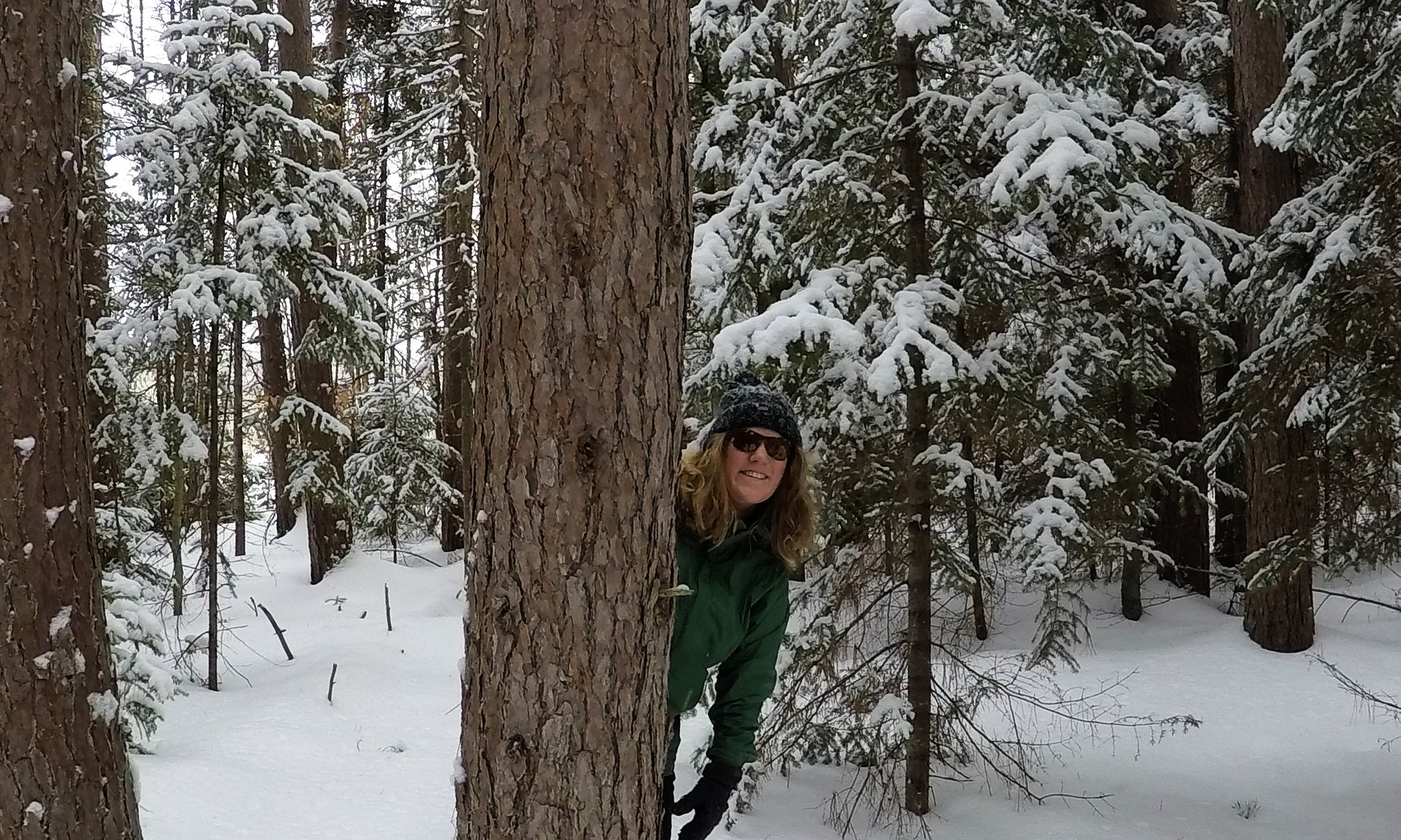 What's in a name?
Wilderness usually conjures up images of rugged terrain or vast, uninhabited landscapes. The Blue Ridge Wilderness in the central Adirondacks has a different feel, reminiscent of an idyllic New England forest. It, like many of the Adirondack wilderness areas, is considered recovering after periods of logging and use years ago. Much of the land in the Blue Ridge Wilderness was owned or controlled by William West Durant before becoming part of the state-owned Forest Preserve. You might recognize Durant's name; it's famous around these parts. He constructed Great Camp Sagamore and is a father of the Adirondack Gilded Age. On Raquette Lake, the W.W. Durant Cruise & Dine offers visitors a chance to learn some of the fascinating history of the area aboard a vessel that continues the legacy of steamboating in this region.
But now, in the throes of winter, the lakes are frozen and boats are stored for the season. It's time to ski! Today our adventure begins near a lake that bears the Durant name. A few miles east of Blue Mountain Lake there are Northville - Placid Trail (NPT) parking lots on either side of routes 28/30. Both should be plowed and are the best options for a launching point today since the snowy roads in the Lake Durant State Campground are not attended to after the campers leave. The actual trailhead for our ski trip is located within the campground about half a mile from these roadside parking lots. A Department of Environmental Conservation sign and blue trail markers signal the way through the campground toward the register. Following the blue markers, you'll pass over the Rock River and see Lake Durant's frozen surface through the trees. Lake Durant and the campground are worthy destinations themselves, but today we're just passing through.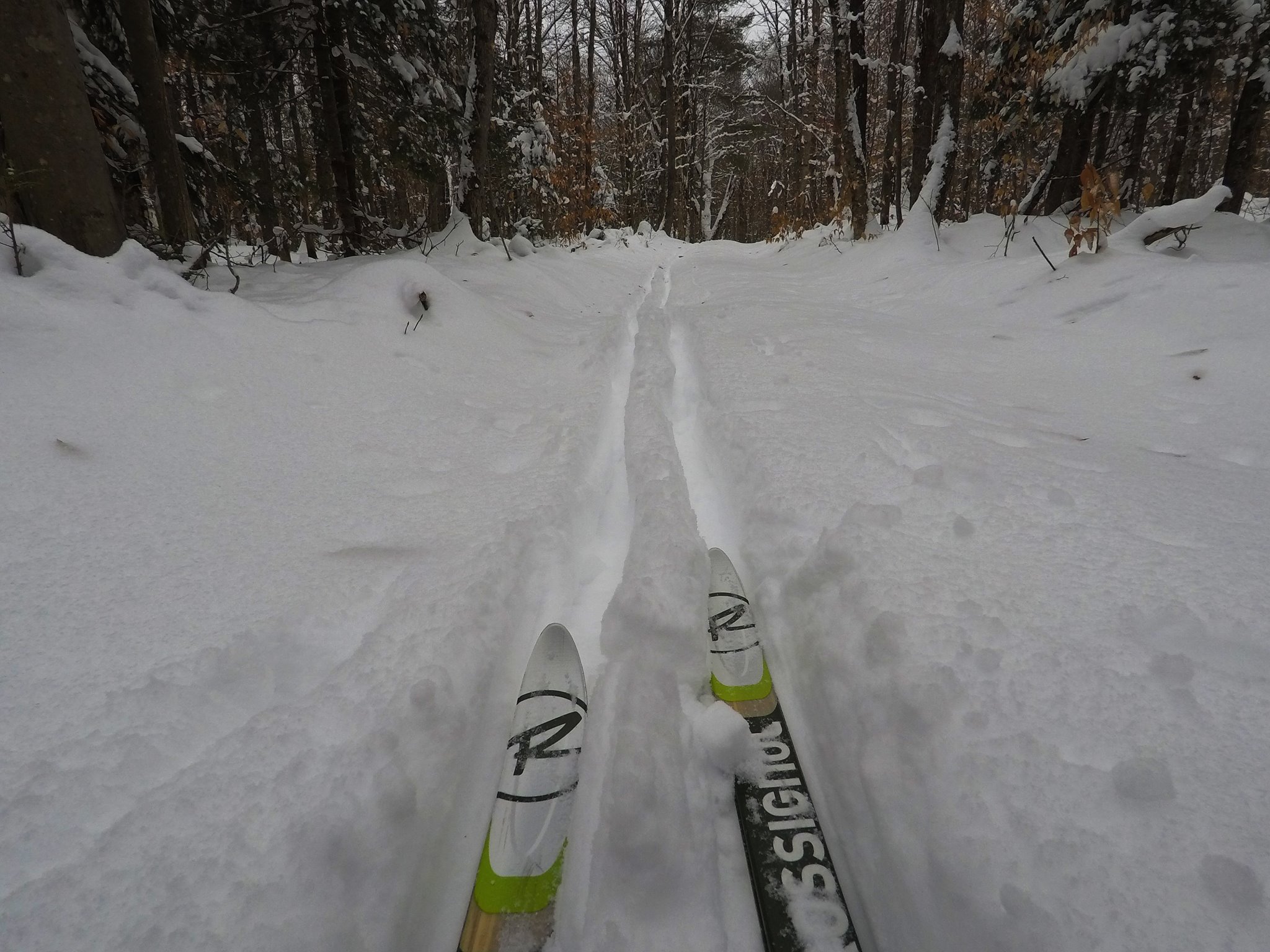 Into the wild
Just after campsite #3, head left off the campground roads and into the woods. This is where the real adventure begins. Not too far into the woods, there is a trail register; be sure to sign in and out. After this, it will just be you, the trail markers, and the wild. Thru-hikers following the infamous NPT, which stretches 130 miles from one namesake town to the other, traverse this path frequently in warmer months, but now, you're more likely to be accompanied by birds and other forest creatures. Today it's just animal tracks I see; the mature hardwood forest is pleasantly quiet as I put miles between myself and the road. One important thing to note: those who have visited this trail in the summer will know already, but this trail follows a drainage, so skiing is best when there is lots of snow and cold weather. For the next 3+ miles, the trail consists of small rolling hills (which make for fun runs on the way down). While most of the terrain is rolling or gentle, there is one steep uphill along this stretch where skiers should exercise caution on the return trip.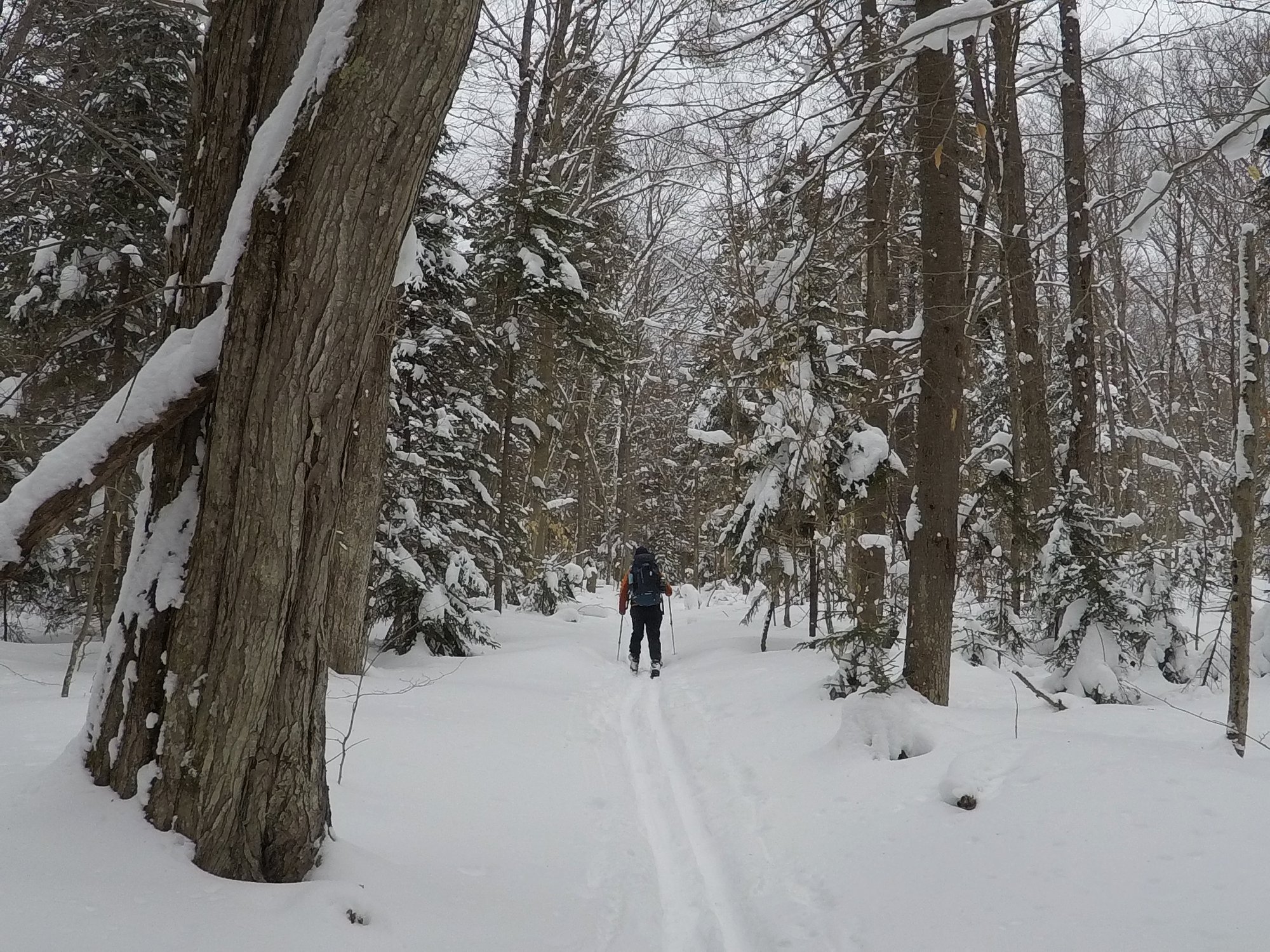 Cascade Pond
Coming to a junction, the NPT bears left toward Stephens Pond. Heading straight will take you to Cascade Pond, which is less than a mile away. This will be my first stop today. Red trail markers and some gentle grades bring you right to a lean-to perched above the pond, a much welcomed place to stop for food. At 35 acres, Cascade Pond is not huge, but the picturesque shores and remote setting are about as beautiful as they come. Be on the lookout for otters; this is a known haunt for them. Perhaps you'll see one sliding down the banks onto the frozen pond. For a change in scenery, don't pass-up a chance to see the small waterfall at the pond outlet.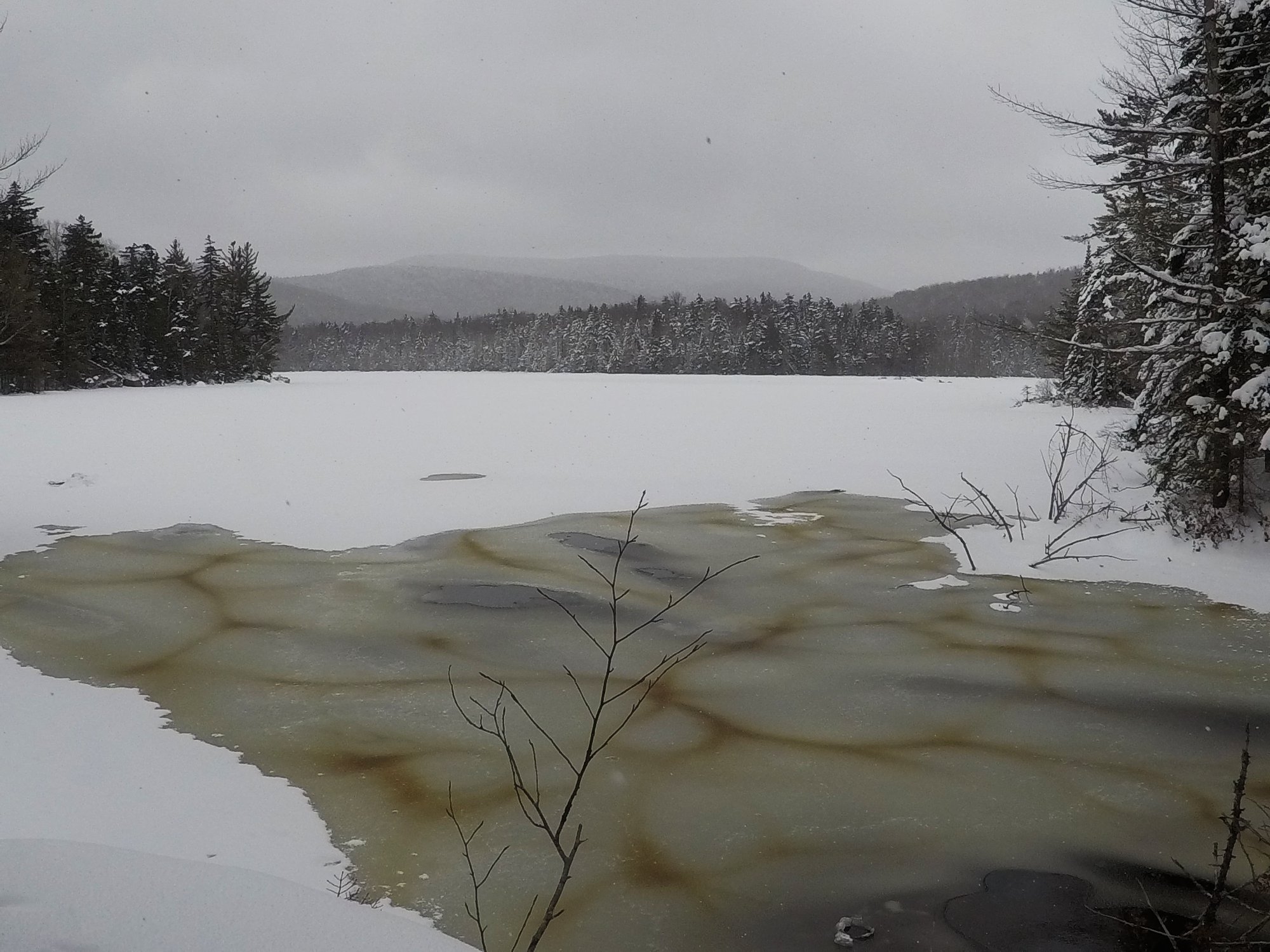 Stephens Pond
Although the lean-to and setting at Cascade Pond makes it enticing to stay here, another pond and lean-to await! Heading back the way I came, I arrive back at the intersection for Stephens Pond. Turning back on the NPT, Stephens Pond is just over half a mile from this point. There are a few stream crossings that may prove tricky in winter conditions if not frozen but some careful route planning will get you and your skis across just fine. Another lean-to is located at Stephens Pond on a short spur trail. On especially windy days, this location might be more appealing for a lunch stop being a little more sheltered. At 65-acres, Stephens Pond is larger than Cascade Pond, but equally pretty. Pine trees line the water's edge to create the perfect Adirondack winter scene.
What's next?
After soaking in the scenery at both ponds, I returned to my car following the same trail I skied in on. A hot meal sounded like it would hit the spot after this wilderness adventure. But your adventure doesn't need to stop here! Stay overnight and find somewhere new to explore after a night at a cozy inn.