As winter comes to an end, and the weather yo-yos from warm to cold, it gets me antsy for those warm summer days where the opportunities for fun with the family are endless! Here in our small towns, we have so many great places to go and things to do. Each region has its own great swimming and hiking spots (as well as ice cream stops, if you're a fan...)! 
Here is just a sampling of some of my favorites!
Piseco and Morehouse

Fishing at G Lake
G Lake is a small lake located on the border of Piseco and Morehouse. It is easily accessed by driving down G Lake Road off of Route 8. After driving 2.5 miles, you will reach a small parking area that will put you within 0.4 miles of the lake itself. It is not a very deep lake and is home to both brown and brook trout. You may also have a chance to spot some nesting loons or other birds due to the seclusion of the area. 
Hiking Panther Mountain
This is one hike I never get sick of. The hike up Panther Mountain is less than one mile in and you can't beat the views! The hike is fairly easy until the last little scramble but so worth it once you reach the top of Echo Cliffs and see the panoramic view of Piseco Lake.
Paddling Big Bay
If you've ever driven down Route 10, you've probably seen the pull off for the Piseco Lake Outlet boat launch. This launch will take you into Big Bay. While you will start out heading up stream, the current is not very fast and is an easy paddle for all skill levels. The outlet will take you for a beautiful scenic paddle directly into Piseco Lake. 
The Oxbow Inn
If you find yourself in need of a bite to eat (or a beer!), after your day out in Piseco, The Oxbow Inn should be at the top of your list of places to stop. Not only do they have awesome pizza, but they have 16 beers on tap. On certain nights you can also find live music being played outside with a bonfire and the view of Oxbow Lake!
Speculator and Lake Pleasant

Golf and mini golf
If you are into golf, Lake Pleasant has what you need! The Lake Pleasant Golf Course has 9 holes and a low greens fee that means you can play all day. If you prefer golf of the miniature variety, head over to Campstore! and check out their course. Not only do they have a super fun mini golf course, but you can grab some candy, a beverage, some ice cream, and at certain times of day you can grab a hot dog from the Super Duper Hot Dog stand!
Speculator Department Store
A mainstay in the Speculator area is the Speculator Department Store. They have everything you could possibly need (including many you didn't know you had to have!). Get souvenir t-shirts and sweatshirts, fishing supplies, home decor, and so much more. You could spend plenty of time looking around in here and not see everything!
Speculator Creamery
The Speculator Creamery is a great stop for a delicious treat! Serving hard and soft ice cream, you can grab a Nor'Easter (their version of a Blizzard) or a Frisbee Sundae with 5 scoops of ice cream and 3 toppings! But if you ask me, you can't go wrong with a simple chocolate soft serve in a cone with chocolate sprinkles...
The Lemon Tree
The Lemon Tree is one of the newest locations in town. They are serving up local beers on tap as well as some snacks from their kitchen. You can enjoy them in front of the stone fireplace inside or take them outside to one of the many fire pits or cornhole board while you relax. They often host live music and offer fun crafts on Sundays throughout the year!
Indian Lake and Blue Mountain Lake

The Adirondack Experience Museum
If you have ever visited the area, I feel like this one is a given but the Adirondack Experience Museum on Blue Mountain Lake is always worth a mention! There is so much great information here as well as fun, interactive exhibits for kids of all ages. You can spend just a couple of hours here, or make it an all day stop.
Adirondac Rafting Company
If you belong to a family of thrill seekers, look no further than the White Water Capital of New York! Adirondac Rafting Company will take you on a 16 mile whitewater run down the Hudson River Gorge, and summer is the best time for families to visit when there are still rapids but not too aggressive. 
Indian Lake Theater
The Indian Lake Theater is a great stop for a night when you just want to relax but still have fun. This locally-owned, one-screen theater offers current movies at an unbeatable price. Pop in, grab your popcorn and candy, and settle in for a show! 
Indian Lake Restaurant & Tavern
If you need a cocktail, or even just a bite to eat, make sure to stop by the Indian Lake Restaurant and Tavern. They have a full bar on offer, as well as a great dining menu. The Abanakee Burger is a personal favorite of mine! 
Long Lake

Mountain bike Mount Sabattis
Mount Sabattis in Long Lake has 2km of brand new shared use trails that were recently opened. Currently featured are a novice and an intermediate trail, great for family riding. The trails will provide enough of a challenge to be a great learning experience for all levels.
Helms seaplane rides
Take a 20 minute scenic ride with Helms Aero Service. This 25-30 mile ride will give you a brand new outlook on the Adirondacks. 
Hoss's Country Corner
Hoss's Country Corner is a must stop destination for the shopper in your group. They have everything you could ever imagine under one roof. This store sprawls on and on from one room to the next! You can find clothing, fishing necessities, shoes, groceries, maps, DEC licenses, and so much more.
Adirondack Growl and Grub
The Adirondack Growl and Grub is tucked right behind Hoss's Country Corner and boasts their selection of draft beer and fresh deli. Stop by for a sandwich or salad and stay for a beer!
Inlet and Raquette Lake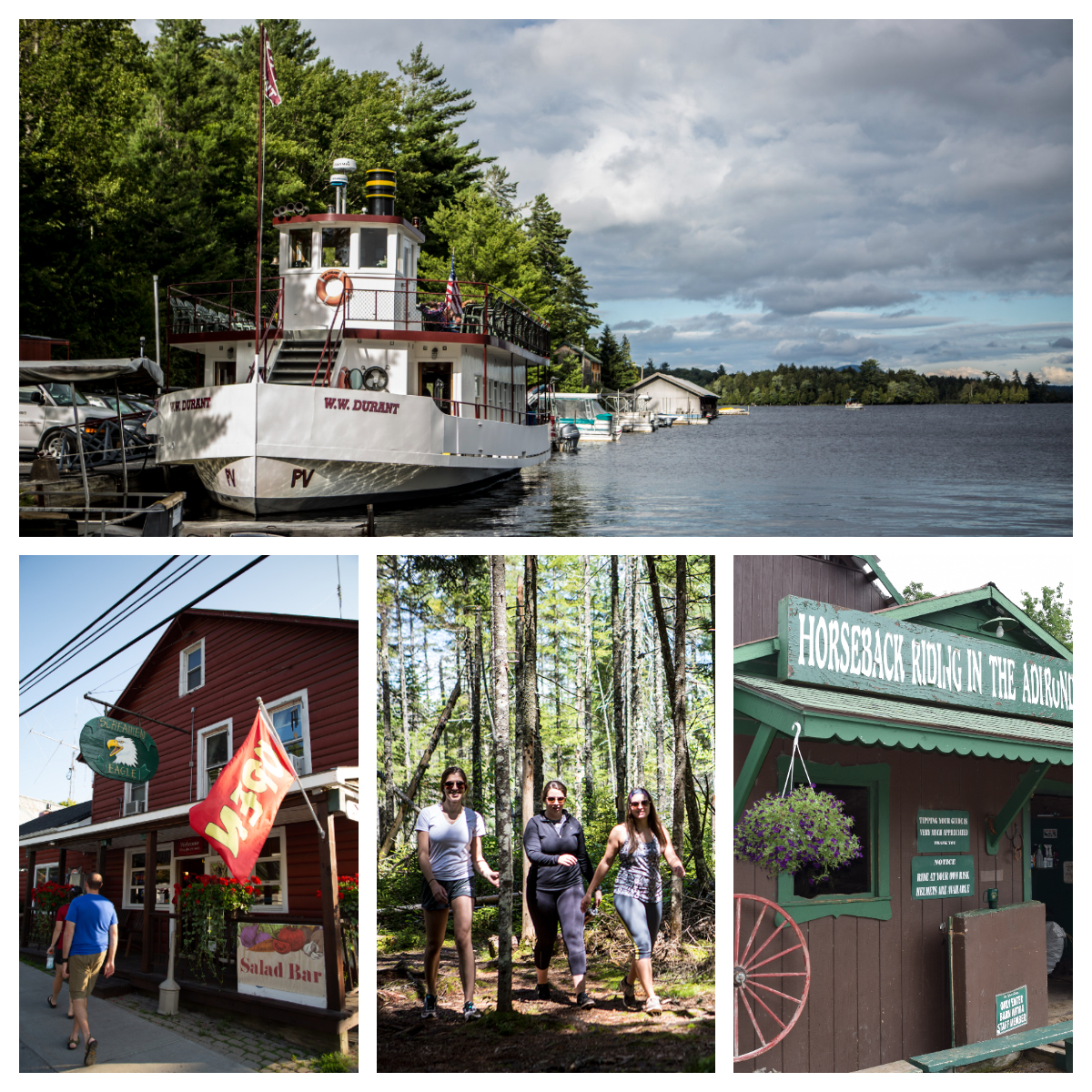 Fern Park
Hiking, mountain biking, basketball court, playground...Fern Park has something for everyone! There are over 20 miles of looping mountain bike and hiking trails for all skill levels as well as indoor and outdoor basketball courts, a baseball field, and a playground for the kids.
Adirondack Saddle Tours
If you have an animal lover in the family, don't skip out on Adirondack Saddle Tours. They offer horseback rides for all skill levels, and specialize in rides for those with disabilities. Rides are anywhere from 1 to 5.5 hours and each ride includes a basic horseback riding lesson.
W.W. Durant 
If you head into Raquette Lake, make sure to check out the W.W. Durant. They offer luncheon, dinner and scenic cruises aboard their historic ship and your captain will give you a historic commentary about Raquette Lake. Reservations are highly recommended as these cruises are very popular.
Screamen' Eagle
If you like a hearty selection of draft beers, look no further than the Screamen' Eagle! They have 50 draft beers as well as a large selection of wines. They also have delicious pizza and wings, if you're into that kind of thing!
---
Come visit us and see all the great stuff we have to offer. From camping to Great Camps, we have a lodging choice for everyone. Make your reservations now!