Editor's note: The annual Black Fly Challenge will be held on Saturday, June 10, 2017. Not sure what the challenge is or why you would want to take it? Check out this fun blog written by one of our very own staff cyclists - he was a newbie in 2016.
I don't know what I was thinking, but I did it. After years of hearing about the Black Fly Challenge (BFC) I wrote my name on the dotted line (so to speak) and signed up. I had always wanted to do an endurance bike race and the BFC seemed like an ideal one to try.
Now all I had to do was complete a 40-mile bike race. How hard could that be?
If you haven't heard of the Black Fly Challenge before, it's an annual bike race between Indian Lake and Inlet. Each year it changes direction. In 2016 we started in Inlet, climbed through the Moose River Plains, crossed into the Cedar River Flow, and descended into Indian Lake. Most of the race is on backcountry gravel roads with a little bit of pavement. While I'm no stranger to mountain biking, I'm a newbie when it comes to racing. So I registered in the MTB Beginner 30-39 division. This turned out to be a good decision. And because everything is more fun with friends, I convinced my friends Matt and Stacie to join in.
But before you start a 40-mile race, you have to train and train and train.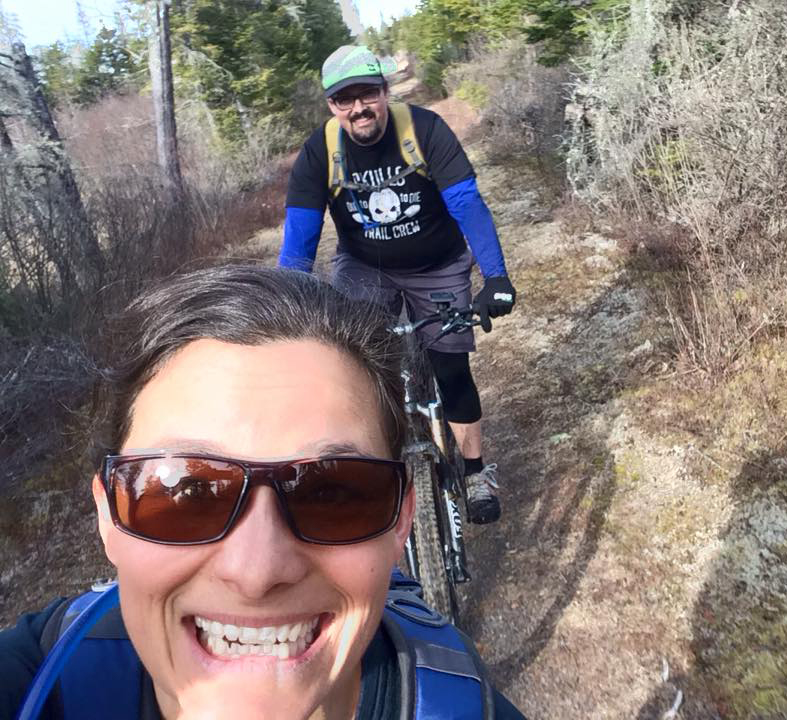 I grabbed my mountain bike and headed out for a first ride of the season in April. Stacie and I were able to pound out about 10 miles that day on the Bog Trail outside of Saranac Lake.
Oh, man. The pain. The burn. The agony. Part of this was the fact that it was the first ride of the season, which always stings a little bit as your body remembers what it's like to sit on a bike saddle again.
But my bike was also an issue. I have a full suspension trail bike that is great for the singletrack in the Adirondacks, but the long-travel suspension and slack frame geometry is better suited for fast and rough descents, not long periods of pedaling hills. Luckily, another friend came to the rescue with a nice hardtail that was perfect for this race.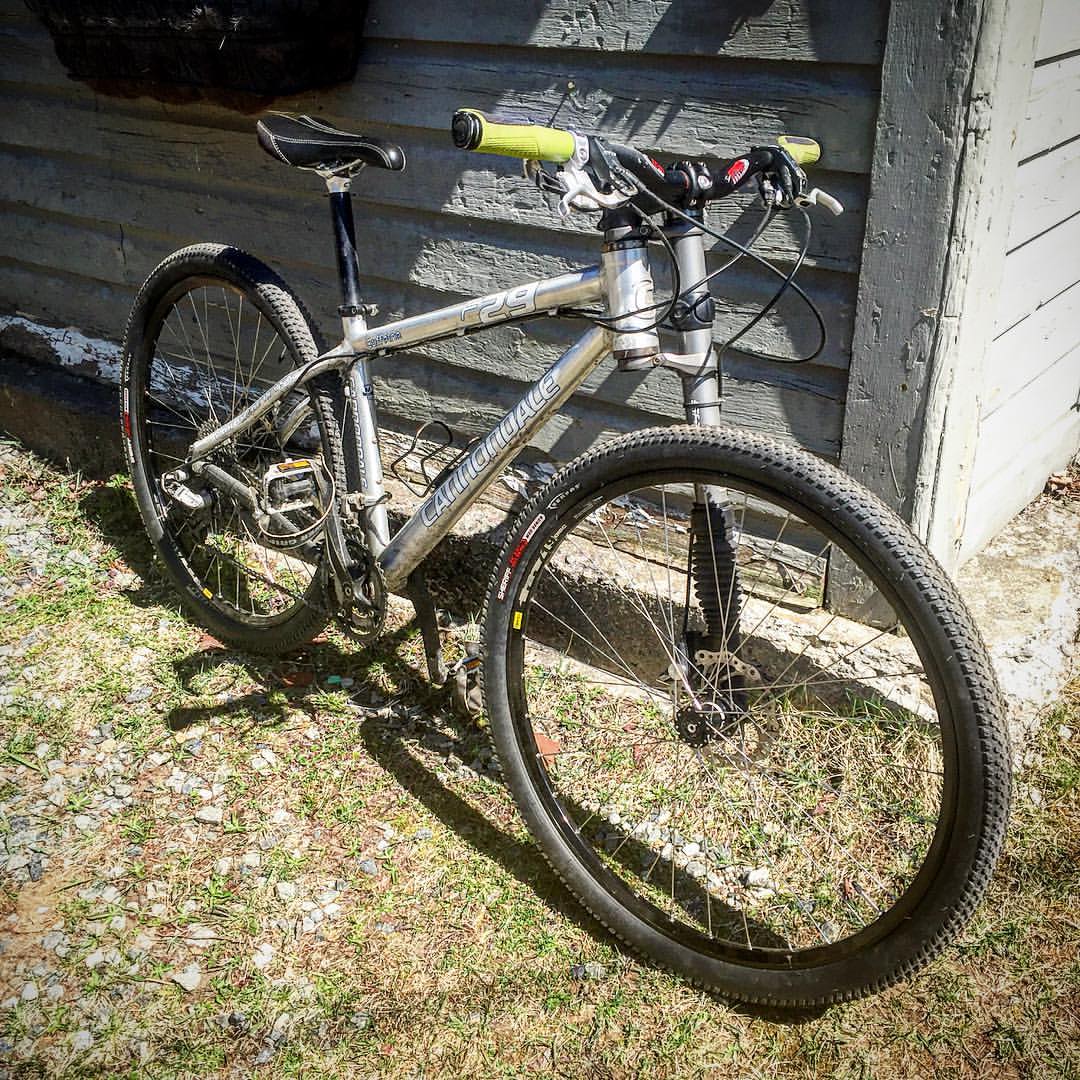 With a new, faster steed, I set out to rack up as many miles as possible before the race. Due to my schedule and the general craziness of a working family with three kids, I was usually only able to ride for 10-20 miles. That's a lot of pedaling, but I was getting nervous about having to keep this up for 40 miles.
Finally, with one week until race day, I knew that I had to go for it. So I turned left out of my driveway in Lake Placid and pedaled and pedaled and pedaled. I thought for sure I had enough miles behind me, but when I checked my app, I had only gone 30.9 miles. Argh. But it would have to do, I had to begin tapering my training rides to get ready for race day.
I was averaging 10-minute miles, so I set my goal time at sub-four hours. A respectable time for someone like me.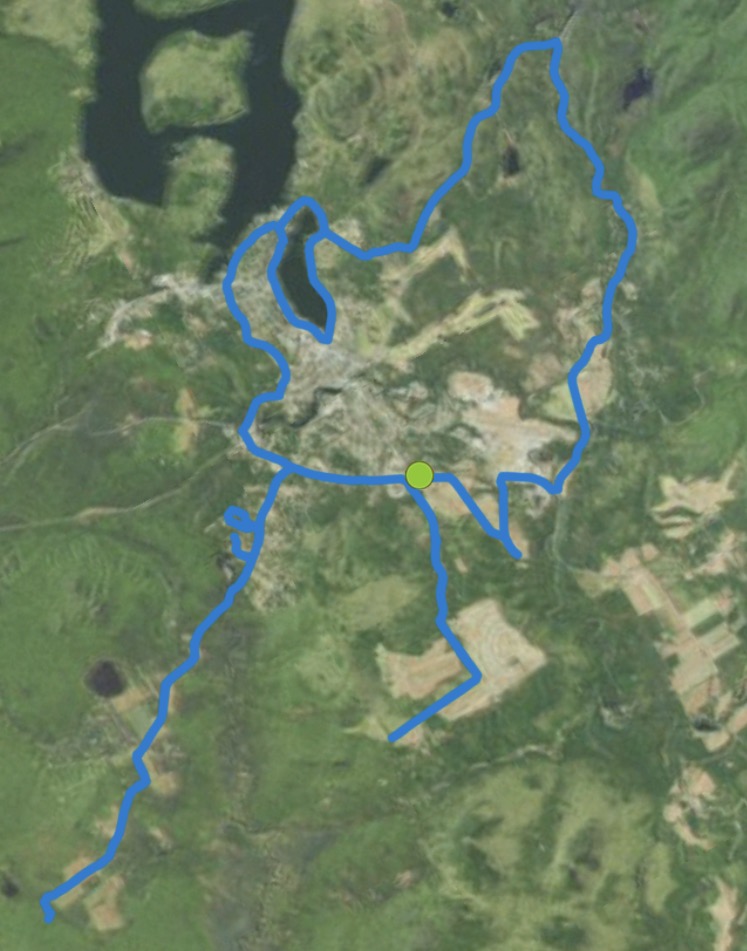 The day of the race had finally arrived. One great thing about the BFC is that is doesn't start until late morning. So it's easy to drive there the morning of the race. Our team of three was joined by Stacie's friends Dave and Jay,  while Stacie's husband, Mike, came along to shuttle the car to Indian Lake.
IMPORTANT NOTE: The BFC is a one-way race. You will not finish in the same place that you started. The race offers a shuttle in the morning and afternoon, but you have to reserve a spot. You've been warned.
So we loaded up an Outback with probably too many bikes and too many people and headed down to Inlet for the start of the race.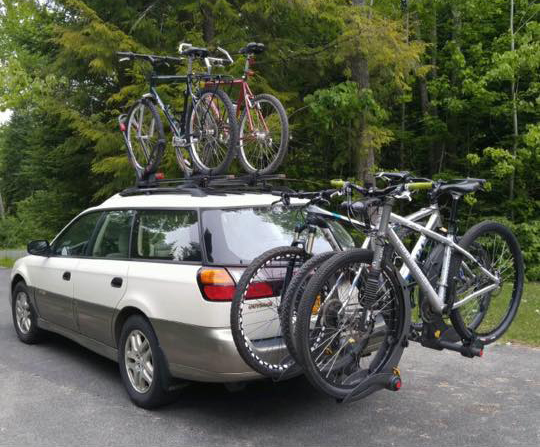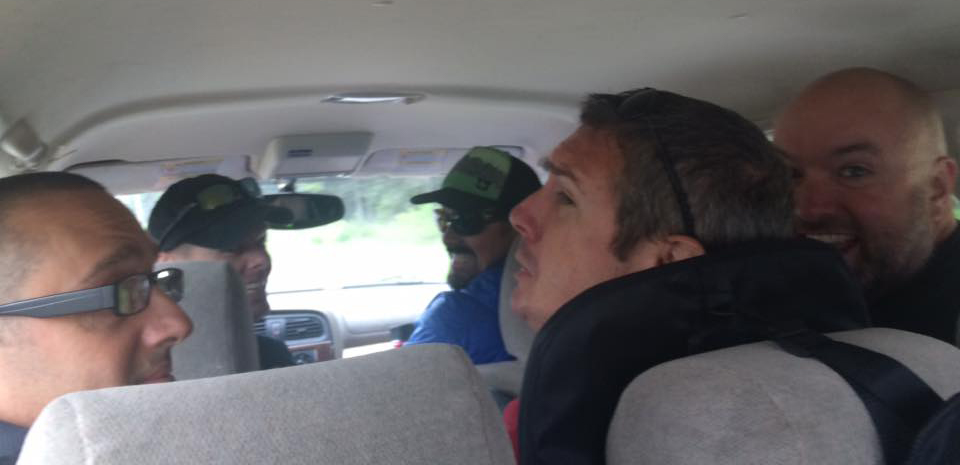 We were in good spirits, despite the cold rain falling outside. Though the close quarters and smell of bike equipment was clearly driving Stacie mad.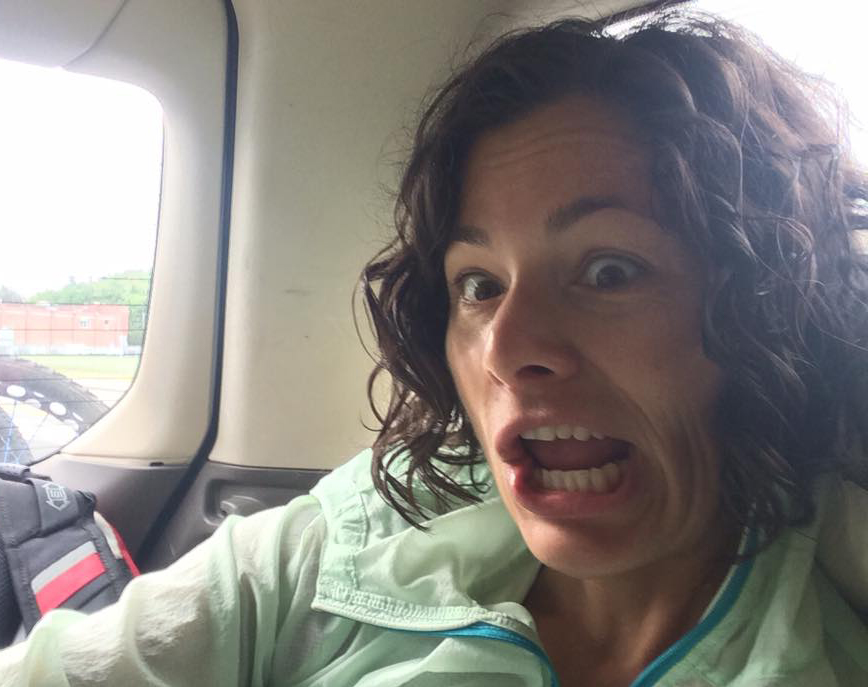 When we got to Inlet, not only were we happy to get out of the tiny clown car but the atmosphere was electric. Nearly 900 riders had descended upon that quaint village. The streets were packed, bikes were everywhere, and - even in the cold rain - everyone was wearing a smile. We checked in at race headquarters and got our wrist bands for the after party (40 miles away in Indian Lake) and began to get our bikes and gear ready for the race.
I think that I can speak for Stacie, Dave, and Jay, when I say that we were really excited and really nervous. The pre-race butterflies were in full effect. Was this a bad idea? What if we couldn't make it? What if this was going to be awful? Luckily, we're a silly group of people so we made jokes and goofed off to take our minds off of what lay ahead.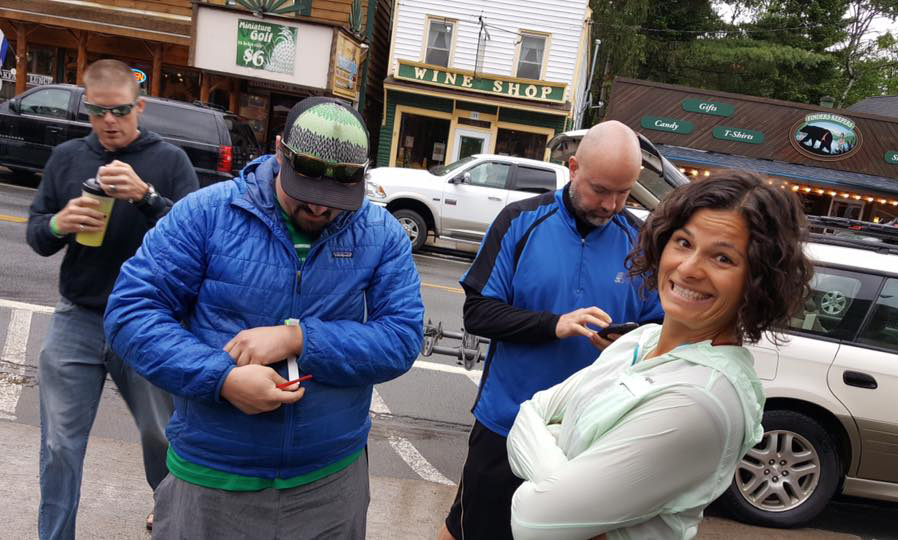 Matt had a lot of experience with mountain bike races so he imparted some final wisdom before the race: "Go slow, then ease up."
It's a common rookie mistake to try to go fast early in the race. This is fine if you're racing in a sprint event, but for longer endurance races, it could leave you with nothing in the tank and 20 miles to go. So the trick is to discipline yourself to race your own race. Don't try and beat the person next to you. Keep a nice steady pace and finish.
We took one more obligatory "before picture" of the group and went over to the starting line.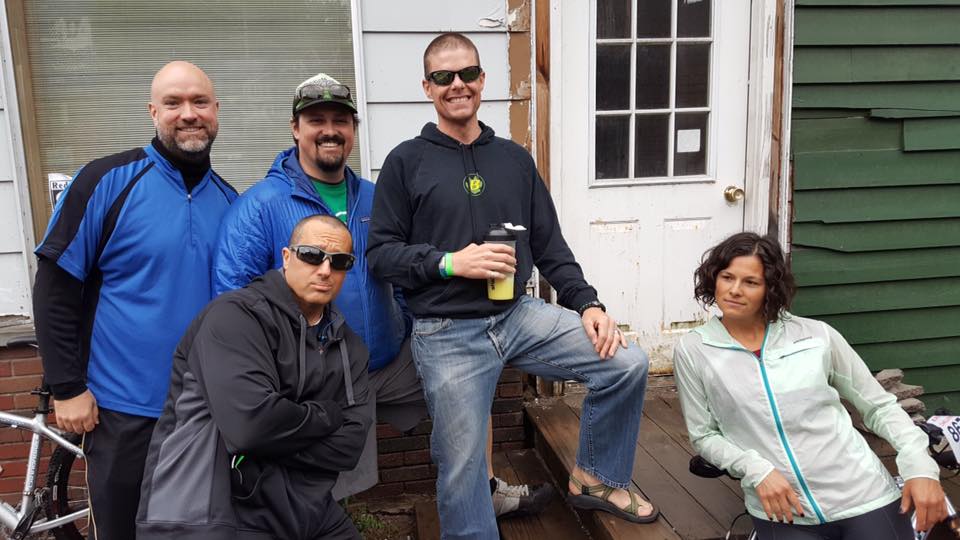 Then the rains came. Technically, it had been drizzling on and off all day, but now it was really coming down. Most of the riders huddled in cars, shops, visitor centers, public bathrooms, and anywhere else you could stay a little dryer. Many of us took shelter in the large picnic pavilion at Arrowhead Park. Some people were worried about the cold and the rain, but most of us were glad that it wasn't too hot and, hey, at the very least, there would be less bugs!
Then the time came to line up. GULP! No backing out now. It's go time. Do or die. Do or do not, there is no try. And I won't back down (now I've gone from Star Wars to Tom Petty - not sure how that happened).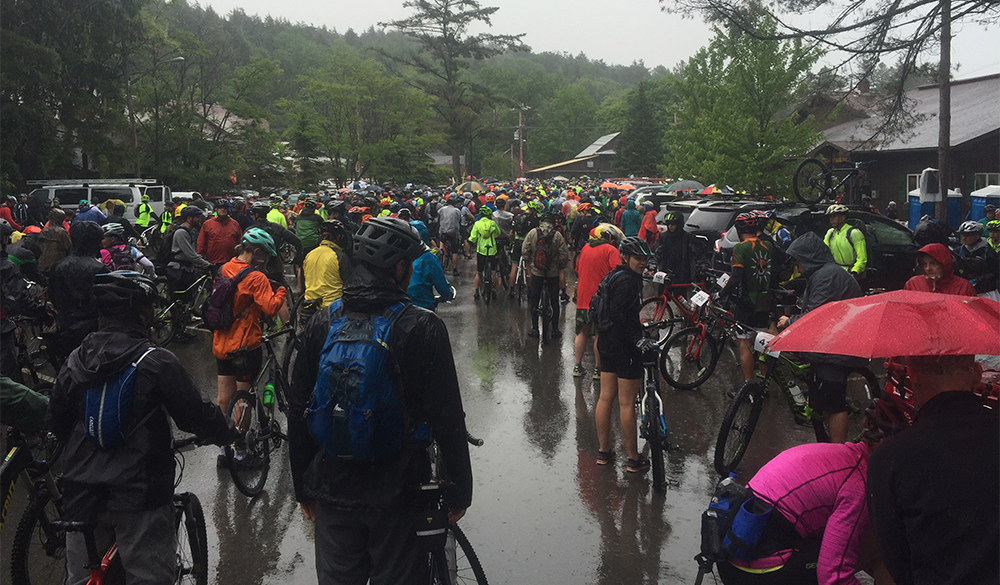 The faster groups line up at the front (thankfully) which meant Matt was there and we didn't see him until the finish line. The rest of us found places at the back of the pack. The race organizers gave us a last-minute reminder of the rules and then we were off!
Just kidding. It takes a while to get 837 bikes squeezed into a two-lane road. A rider next to me got a little too excited and fell over when she couldn't unclip from her pedals. She laughed it off and we helped her back up. It was a great tension cutter.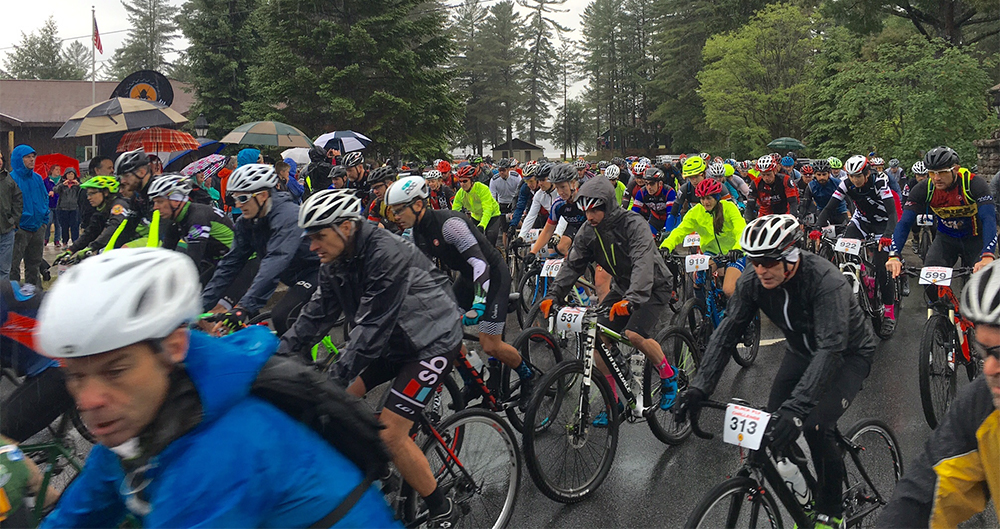 Now things are rolling along! Keeping Matt's words in the forefront of my mind, I tried to curb my enthusiasm and keep a modest pace. Even when some of the other riders started passing me, I kept my steady pace. There were lots of cheering people lining the street as we made our way out of town.
We made a left on a side road and began our journey deeper into the woods. Within a couple of miles we left the pavement behind all together. At this point, everyone was in a great mood and feeling great with lots of energy. At the first aid station I stopped to help someone who had a mechanical issue. I saw this a lot on the race - at least in the back with the other recreational racers - all the riders looked out for each other. There was an awesome community feel to the race. The volunteers running the water stations were great as well. It's really cool to see the community get behind an event like this.
I guess I should fast forward through the first half of the race. It's fantastic in person, but doesn't make for very riveting reading. We pedaled up hills. We rode down hills. We made jokes. We saw some beautiful scenery.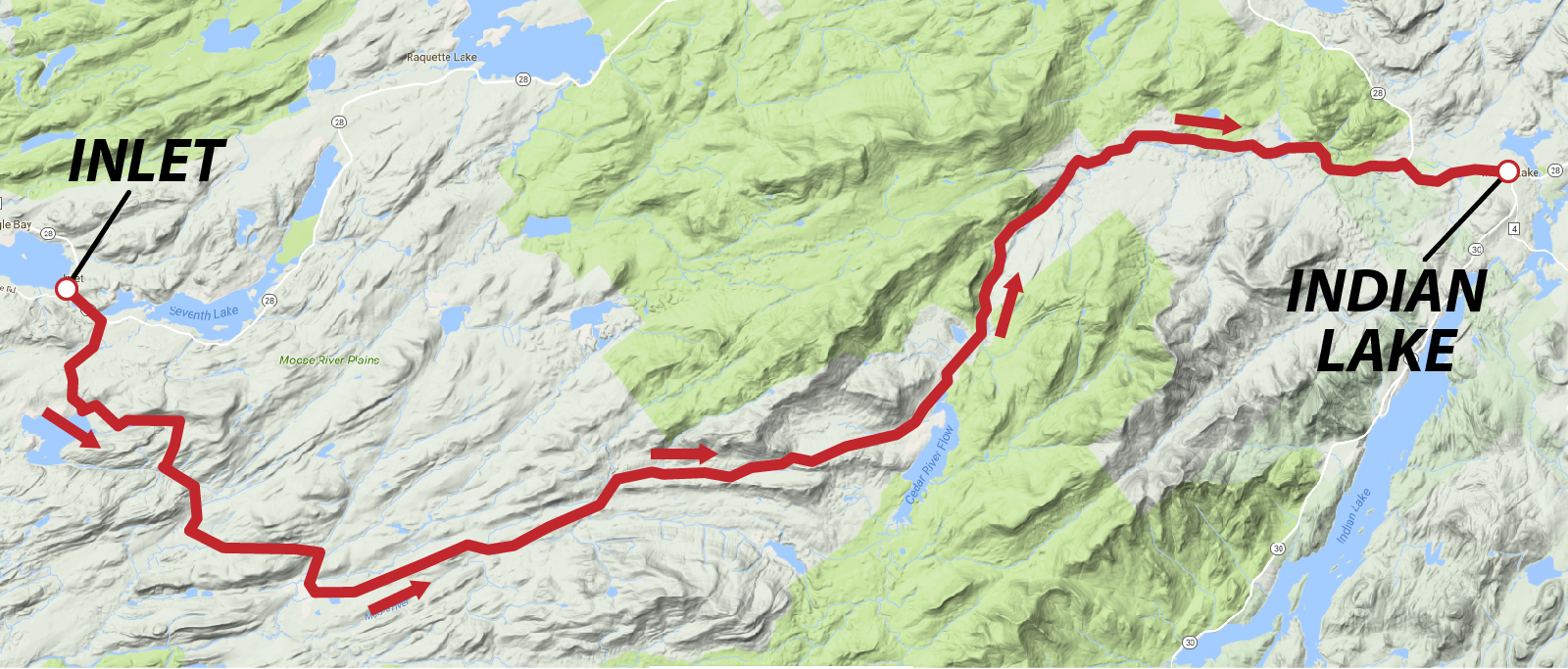 Then came The Climb. Around mile 12 or so we started climbing. And we climbed. And we climbed. And we kept climbing for 10 miles. Over that 10 miles we gained over 800' of elevation. I knew this was coming. I had had bad dreams about it. My one goal was to make it to the top of the climb without getting off my bike.
After 2 miles of climbing there's a little break. So far, so good. Another couple of miles of climbing done, another break. Hey, this is going great!
Now the road climbs for five miles straight and gains 600' of elevation. But I am determined to ride it out.
Four miles to the top. People are slowing down all around me. I start to recognize riders that zipped past me at the beginning.
Three miles to the top. My legs are starting to burn.
Two miles to the top. Now I'm seeing riders off their bikes taking breaks on the side of the road.
One mile to the top. Other riders are walking at this point. They start yelling encouragement to those of us still pedaling.
I'm not exaggerating when I say that the last half mile of this climb was the most mentally difficult climb I have ever done. All I wanted to do was not pedal anymore. I am in what is called "The Pain Cave." I'm not receiving any input from the outside world and all of my will and concentration is put into keeping my pedals moving.
Around the last bend, I see a group of a half dozen or so riders off their bikes. It's the top! As they cheer me on, I thought briefly about stopping to enjoy the top of the hill, but I knew what was waiting on the other side...

Downhill.
Sweet, blessed, wind-stinging-your-face downhill! It was invigorating. That was it. I had made it passed the highest part of the course. Even with a few climbs left, it was mostly downhill from here!
There's quite a few miles of pavement at the end of the race. Again, I had to pace myself because there was still 10 miles to go. "Ease up. Ease up. Save your energy," I kept repeating to myself. I wanted to sprint to the finish, I was so excited.
In Indian Lake the final stretch is along the side of the main road. Coming up the last hill I could see the finish line. I'm pretty sure that I had tunnel vision at this point. Really, all I could see was that finish line.
I had completed my first Black Fly Challenge.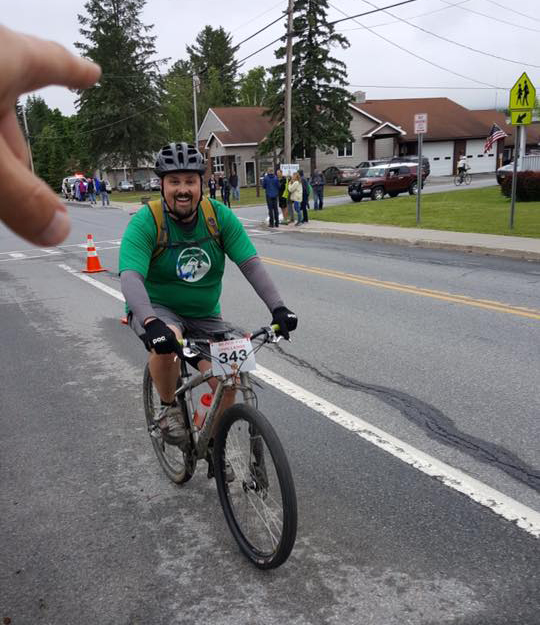 My time was 3:58:40:17. I had made my goal of sub-four hours. I had made it up the big climb. I came, I saw, I conquered. Okay, maybe not "conquered" in a traditional since. I was 25th in my division and 620th overall. I guess there's some room for improvement.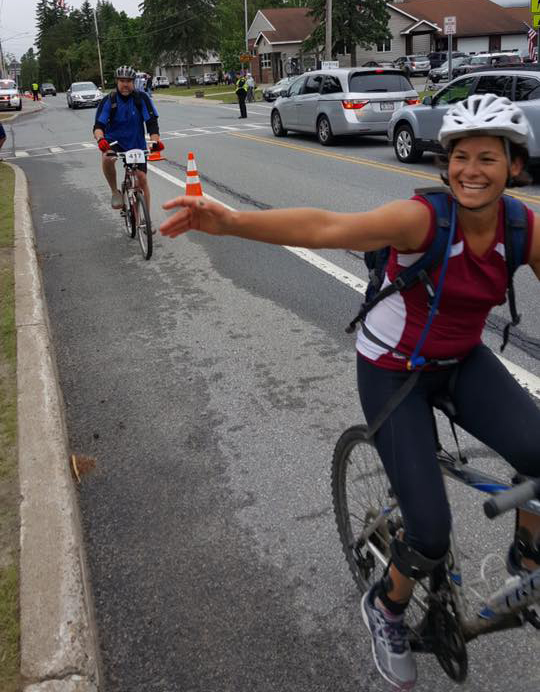 Matt was changed, fed, and relaxing next to the finish line by the time that I came through.
Jay finished a couple of minutes ahead of me, and Dave and Stacie finished somewhere after me. We met up and got changed, then ate some food that I don't really remember because we ate it so fast. It was a great feeling to have finished the race.
Even though we had to drive home, the feeling of accomplishment and camaraderie lasted for a long time after. In the end, I didn't really care where I ranked among the other riders. The experience was prize enough.
Though this year I'm going to try go just a little bit faster.
See you at the finish line!
Ready to ride? Find out more  and register for the Black Fly Challenge here.
Not quite ready to sign up? Check out this blog  with background and some tips from the pros!
In related ADK activities: